Discover more from Agents and Books
The FAQ on how to find an agent and how to write books, all in one place.
Over 19,000 subscribers
Hi Friends,
As you may have seen on Twitter yesterday, I finished my novel! I wrote a whole novel! Here's a picture of it: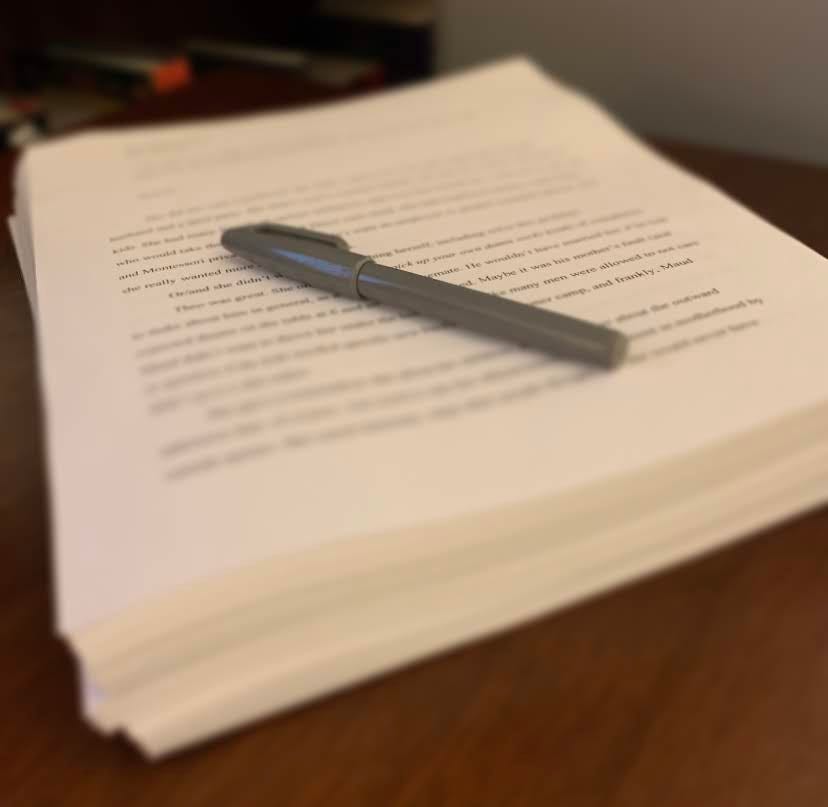 Of course, it's not really finished. I am have to and am going to do several edits on it, both on the plot-level and the line-level, and then I'm going to grit my teeth and ask a few people who have generously offered to read it to do so and then I'm going to send it to my agent. He will then also have opinions about whether it is finished or not. And if I am very luck an editor and copy editor will have other opinions about whether it is finished or not. It's a long way from done. I haven't written a done novel. I've written a whole novel.
I get a lot of questions about how one knows they're done editing so they can send their book out into the world. What is underneath that questions is really: please tell me I don't have to work on this anymore I am so tired and I hate it and I have no idea if it is good. Tell me when I get to be rid of it. I get it. I, too, do not want to work on my novel anymore. I want someone else to tell me what to do to make it better/salable/perfect, thanksyouverymuch. But it doesn't work that way. You, as a writer, have to develop your own self-editing skills so that you can make is the best that you can before you ask other people how to make it better. It's hard, but you have to do it.
It's in your best interests in more ways than one. If you're going to do the hard thing and ask others to give you feedback on your work, you don't want them to hone in on the easy stuff, the stuff you already know you have to fix. Yes, yes, I know the front is slow, but what did you think about the ending? is not something you want to say to your beta readers. They'll think why did I spend so much time slogging through a slow beginning if you already knew it needed work? They might not have thought about (or gotten to!) your ending because they were so bogged down with the beginning. You have to fix the things you know need fixing first.
How do you know what needs fixing? This is what I do:
First, I write until I can't write anymore. That may mean I have gotten to an ending, or I have gotten to a point where I can't go forward until I make some decisions/do some some thinking/change some big stuff that will pave the way for the ending. For example, I knew I needed to take out a whole character in this novel and I felt like that was going to change a lot of things in the front of the book, so I went ahead and took that guy out before I wrote more of the end of the book. This is not the same as making sure what you've already written is perfect before you write more. That's procrastination and fear, not editing.
Once I took that character out and tied up some loose ends (but still didn't have a real ending), I went back to the beginning and started reading. And I took notes (this time using comments in Word (WORD, you heathens, not Google Docs) and sometimes in my notebook that I'm using for this book. (Any excuse to use more notebooks.) Sometimes it would be like make sure this detail comes up again later in X scene. Or what time of year is it? or Does X know about Y yet? I would sometimes search forward in the book to answer these questions, or sometimes go down my checklist all at once when I got to a natural stopping point. What I was doing, though, was reading my book like a reader. The reader doesn't know what's going on. The book needs to answer the reader's questions in an artful and logical way. Maybe it's important that X doesn't know about Y in chapter 3. Or maybe it is important that they do, because otherwise it doesn't make sense. (I also needed to make sure that the things that were happening in my head in the book were actually on the page somewhere. That's a bad habit I have as a writer.)
Sometimes I could read straight through and make small changes. Sometimes I needed to stop and write or rewrite whole sections because I discovered that I hadn't answered questions, or something didn't work, or I hadn't actually gotten those stakes on the page. I was anxious to get through all the pages I'd already written and I felt like stopping to write or edit was slowing me down. But that was more fear and procrastination. If I rushed to the end, I wasn't going to be "done" any faster.
As I was reading, I kept track of how long it had been since I had addressed different aspects of the plot. I have two narrators in this book, and it switches back and forth between them in the third person. So I kept an eye on how long we were in each POV. Too long? Too short? I kept an eye on what question was lingering at the end of one POV and how it was answered (or not) the next time they came on stage. This is all like keeping several balloons in the air at the same time. You have to keep tapping them to keep them loft. Maybe it's exciting if the reader thinks one is almost going to hit the ground. Maybe it's annoying. There are no hard and fast answers to these questions, and it differs from writer to writer, book to book. This is all by feel. But you have to be aware of these things, the best you can, and think about what the reader wants. If you lose the reader, then what do you have?
I knew I was done, so far, when I got to the end and it didn't feel like I had any more questions. There are still plenty of TKs in my book, things I need to fill in about timelines and weather and things I need to research a little bit. I will do all that later, before I send it to anyone to read. I'm not sweating that small stuff. There will definitely be more edits to this before it leaves my computer. But I think I've answered the big questions: what are these characters doing? What do they want and why? Do they get what they want, why or why not? What's at stake, and is it worth it?
I'm sure I'll have to wait and see about that last one. Right now, I'm going to bask in the glow of 84,000 words done, and get out my red pen to edit some more.
Thanks for reading. Happy writing.
XOXO,
Kate