Discover more from Agents and Books
The FAQ on how to find an agent and how to write books, all in one place.
Over 19,000 subscribers
Hi friends,
We've been talking a lot about queries and while I'm sure it's a topic we'll come back to, I think we might be boring our fellow readers who aren't at the query stage. If you're a paid subscriber and still have a query question, send it my way, and I may answer it on a Q&A Thursday (a thing I just made up)!
Tangential to queries, but relevant to writers at all stages, is GENRE. If you say you're writing a book, someone is going to ask you what "kind" of book it is. One with words, you might say. Or you may say it's for adults or for kids to start (n.b. that's audience, not genre). You probably know if you're writing mystery or romance or fantasy or a picture book or diet book. Those are genres that are pretty easy to nail down. It's also easy to over think this when someone is going to use that information to (start to say) yes or no to your work. You don't want to leave anyone out!!!!11!!1!!!!
You cannot be all things to all people. Your book cannot be all genres to all people. You may think that since your book has a little bit of everything in it, that anyone who likes ONE of those things will like your book. FALSE. You probably shouldn't describe your book as a romantic romantic suspense mystery historical post-apocalyptic science fiction Only a person who likes ALL of those things will like your book, if you pitch it as being part of 75 genres. Here is a Venn Diagram that explains this. The purple center is your reader.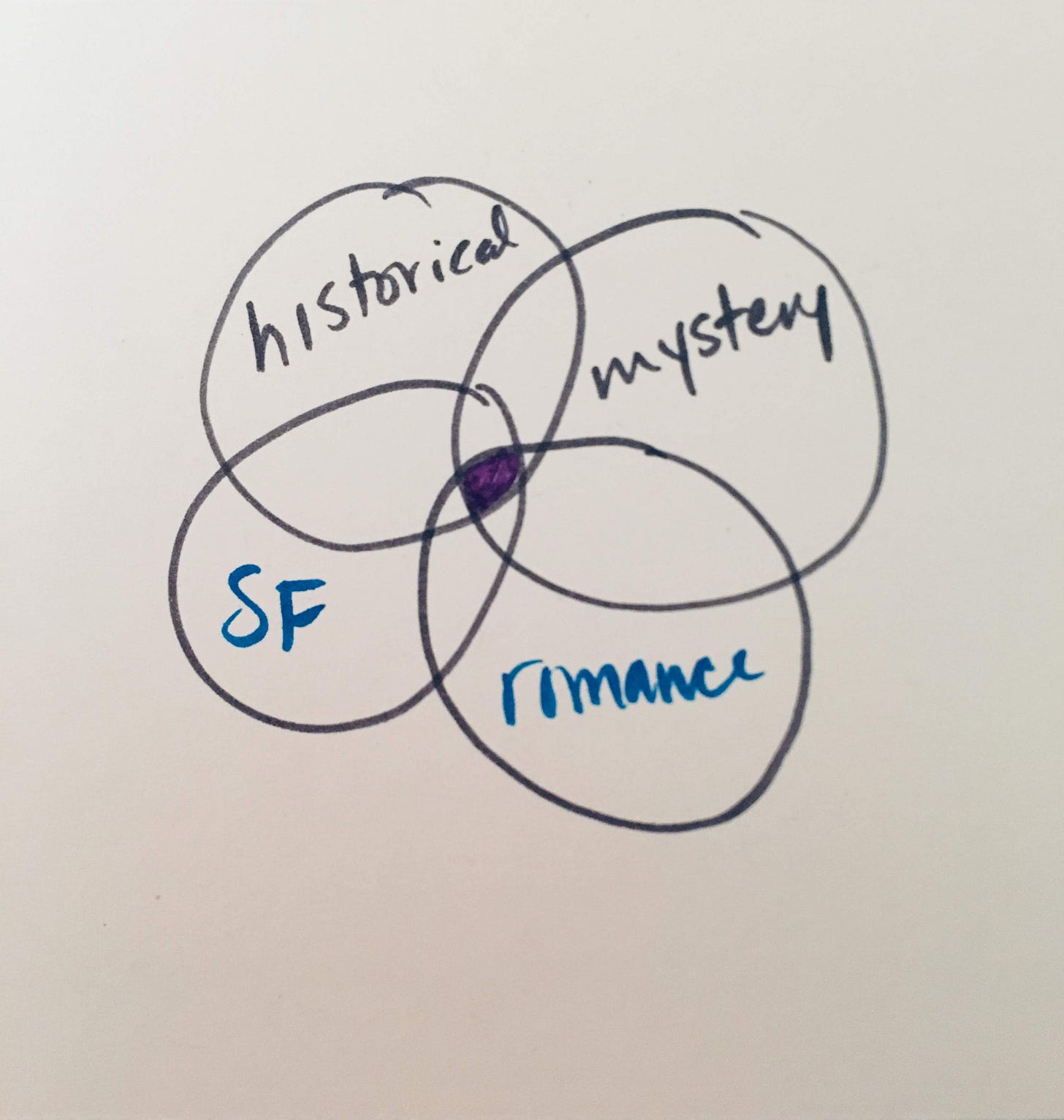 So, start with one genre; your main genre. If you're writing in a Capital G Genre (i.e. Romance, Thriller, Mystery, etc), you are likely reading widely in that genre (RIGHT??) so you have a good idea that what you're writing actually is a Mystery, etc. But if you're not quite sure, or want validation, head to the bookstore or library, and try to imagine what shelf your book will be on. (And not the New Fiction table or whatever.) You get ONE SHELF. Your book is not going to be on the memoir shelf and the self-help shelf. Nope, not even yours. Pick one. Start there.
(If you're still unsure, you're going to read more in your potential genre and/or to practice some self-confidence and decision making. You can't have everyone make decisions for you. You're probably not going to be wrong.)
SO! You have your main genre. Then, I say and some disagree, you get up to TWO additional adjectives to describe your book. Maybe you've written a military thriller. Maybe you've written a Victorian historical romance. Maybe you've written a post-modern literary novel. The adjectives just help you target a specific reader, but you still may reach those who like thrillers or literary novels in general. When looking for an agent, you can target those who list your main genre, even if they don't list your several adjectives. (Unless otherwise stated.)
If you get down the line, and an agent or editor says you actually haven't written a literary novel with magical realism, but instead a high fantasy novel, talk to them about it. Ask them what that means in terms of publishers, marketing, readers. Often, it's not so much of a difference, or it's a good thing. But if you find you don't agree at all, then maybe that agent or editor is not right for you.
I hope you can rest easy tonight knowing you've figured out your genre, even if everything else about your book is up in the air.
Best,
Kate