The Only Three Publishing Questions You'll Ever Need to Ask
Yes, Three
Hi friends,
I get a lot of questions about publishing. I ask for these questions, but I also get them left and right from friends, distant relatives, mutuals and randos on Twitter, at the playground and anywhere else anyone knows I'm an agent. Don't get me wrong, I like this. I am an avowed know-it-all and nothing pleases me more than telling you The Answer to something. It is an unfortunate cornerstone of my personality but ¯\_(ツ)_/¯ too late now.
I hear many of the same questions over and over: how do I get an agent? how do I get my picture book published? What's a good advance? Will my book sell? Sometimes I know the answer right off the top of my head. Some answers are unknowable. Some answers I know the questioner doesn't want to hear, so I have to respond more gently than might actually be practical or helpful. But there is a person behind that question, I strive to remember, and not just correct or incorrect information.
Those questions often boil down to three main points, or secret meanings, or undertones, or whispers from the writers' hearts. Sometimes they don't need to know just the correct information, but are just asking for help. It's useful to know what you're really asking, so that you can prepare for the answer you're likely to get.
How do I do it?
Most of the time, when writers ask How do I get an agent? Do I have to write an outline? Should I use Scrivener? Do I even need an agent? Is my query letter too long? What if my book is more than one genre? they just mean what do I do? how do I do it? tell me what to do because the anxiety is thwarting me. There are so many moving parts in writing and publishing a book, that it's natural to ask for the specifics. We all sit at our desks and stare at blank pages and think that there has to be something that unlocks everything, that makes the book write itself, the agent take notice, the advance go up. There isn't, though. You can do most things a number of different ways and get to the same place. Of course, there are some absolutes (i.e., it's tough to sell a full novel that's like 20k words, the "picture book but for adults" isn't as much as of thing as you think it is) but a lot of times, things get fuzzy around the edges. Some great novels just eeeeek over 50k words. Some times you can write a whole book in a matter of weeks, even without an outline! You don't know until you do it. Sometimes the answer is to just do it and see where you land. That's not very helpful advice for the struggling writer, so I answer specifics with specifics as much as possible. But often, it's just that. How do you do it? Any way you can.
Should I give up?
Will this idea sell? Is this idea better than that idea? Does it mean my book won't sell because it's been X time since we sent it out? Will an agent ever request my full manuscript? Should I self-publish if I can't get a traditional deal? Should I write this thing that's hard or this thing that seems easy? Can't someone just tell me what to write? Should I get an editor first? These questions are all really asking should I give up doing what I'm doing now and do something else, or stop all together? Because you know what? Continuing on when there are few indicators of success is HARD. Believe me, I know. We all want a sign that our book will sell, that we'll hit the list, that we'll get an agent. We think if it happens by X, then it'll really, really happen. But, that's not true. This year I've sold things that have been on submission longer than any other time in my career. I mean, it's clear why. The pandemic is slowing everything down, to say the least. But also, maybe that was just how long those needed to be out there, to find the right people. ¯\_(ツ)_/¯ Even as an agent I ask myself should we try another round? should we edit it again? And I don't have an absolute answer to those questions ever. Sometimes we do, sometimes we don't. Different books need different things. You just keep going until it feels right to stop. That doesn't mean you stop when it's hard, or stop because you're mad, or stop because it shouldn't be this way. No one is owed a book deal. You stop when it's right for you. You stop when it's time to stop. Sometimes it's easy to see that, and sometimes it's not.
When will I get there?
When will my book come out? If I start now, how long will it take me to finish this? Is this delivery schedule reasonable? When should I follow up? Is it bad to be published in X month? If you get past the should I quit? question, it's natural to wonder when you'll get where you want to be. I mean, I too want to know these things! But if there were one timeline that fit all books then we'd never negotiate a delivery schedule, because everyone would need 143.2 days to write. If only one month was good for publication, then all books would come out in May. If all agents got back to you in X weeks, then wouldn't even say the words "follow up." But things don't work that way. There are 1000 variables to every book, and you won't know any of these answers. There are general timelines (a book takes 8-12 months to be published, except when it doesn't) but other wise, and I'll say it again, ¯\_(ツ)_/¯. I might be writing myself out of a sorta-weekly Q&A Thursday column with this, but I'm afraid this is just how most of it works. The answers to these questions serve less to inform the asker of specifics, and more as a someone squeezing your shoulder, saying it's ok to keep going, you have my permission.
When you feel yourself getting wrapped up in specifics like is first person better than third? Do I have to write an outline? Is this publisher better than another? stop to consider if one of these things is at the heart of your question, and if in acknowledging that, it leads you to another question. Do you need some reassurance? Some acknowledgement of your hard work? Some support? You may also need to know if it's ok to query two agents at the same agency (sometimes) but it just might be that you need a little moral support, too. It's never one thing in life, is it?
---
IT'S PUB DAY EXTRAVAGANZA OVER HERE AT #TEAMMCKEAN!
Three AMAZING books hit the shelves today, and you should buy them all or check them all out from the library!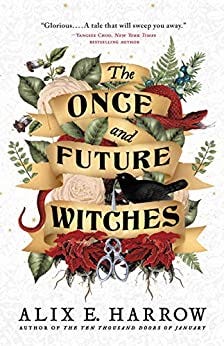 FIRST is Alix E. Harrow's THE ONCE AND FUTURE WITCHES! This is Alix's second book, after THE TEN-THOUSAND DOORS OF JANUARY, which was a finalist for basically all the SFF awards you can win in one year, and she is dying of embarrassment for me even saying that, but stop Alix, it's true. ONCE AND FUTURE has THREE STARRED REVIEWS and is an Apple Books, Amazon, AND IndieNext Pick and is the story of three sisters who are also witches who are also SICK OF THE SHIT that's happening around and too them, and they do something about it, with the way, the words, and the will. It gives me chills just thinking about it. Get it now.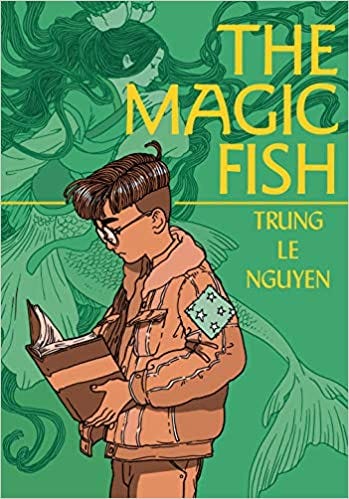 NEXT is: THE MAGIC FISH by Trung Le Nguyen! Trung's debut graphic novel has THREE starred reviews, was in EW!, and so many other exciting things we can't even tell you about yet. This story will crack your heart so wide open that it'll grow back bigger and stronger. It's the story of a first generation Vietnamese boy who struggles to tell his mother he's gay because he doesn't have the words, in so many ways. So they communicate through fairy tales. It's STUNNING. You have to see it for yourself.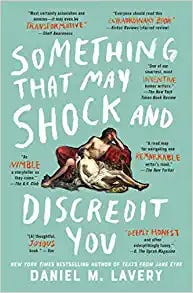 LAST BUT NOT LEAST is the paperback for New York Times bestseller Danny Lavery's SOMETHING THAT MAY SHOCK AND DISCREDIT YOU! This one got so much praise they had to redesign the whole thing to fit it all on there. It, too, received starred reviews, and more! The New Yorker said Danny's mind was "remarkable." The New York Times Book Review said he was "one of our smartest, most inventive humor writers." This quasi-memoir of transition, but also a quasi-master class in the Classics, is as hilarious and thought provoking as people say. Get it now.
---
Happy book shopping, my friends. Wear a mask. Vote vote vote vote vote.
OXOXOX,
Kate